The State Review Project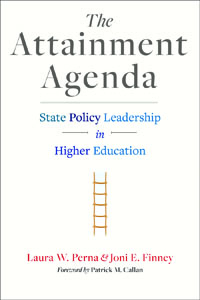 While the federal government invests substantial resources in student financial aid, states have the primary responsibility to develop policies that raise overall higher education attainment and improve equity. The importance of understanding how states may accomplish these goals has never been greater, as educational attainment is increasingly required for economic and social well-being of individuals and our society. Drawing on data collected from case studies of the relationship between public policy and higher education performance in five states (Georgia, Illinois, Maryland, Texas, and Washington), researchers Laura Perna and Joni Finney's new book The Attainment Agenda offers a framework for understanding how state public policy can effectively promote educational attainment. 
For more information on The State Review Project, please see the Institute for Research on Higher Education's State Review Project Page.
Researchers
Joni Finney, Penn GSE and Laura Perna, Penn GSE
Research Team
Michael Armijo, Jamey Rorison, and Awilda Rodriguez
Publications
Finney, J., Perna, L.W., & Callan, P. (2014, February). Renewing the promise: State policies to improve higher education performance. Philadelphia, PA: Institute for Higher Education Research.
Perna, L.W., & Finney, J. (2014). The attainment agenda: State policy leadership in higher education. Baltimore, MD: Johns Hopkins University Press.*
*30% discount is available from Johns' Hopkins University Press with a code HNAF. To receive the discount please use the code when ordering online or call 1-800-537-5487.